"The instant our eyes met the hairs on the back of my
neck stood straight up. The electricity in the room was so thick
I could feel it crackling on my skin."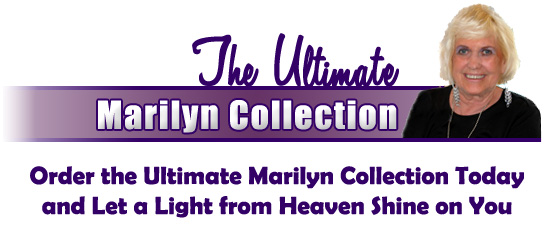 That's how we describe my first meeting with Marilyn in our book, I'm Rich Beyond My Wildest Dreams. I am. I am. I am.
If anything it's an understatement of the impact this amazing little lady has on everyone she touches, me included.
I'm a writer and I still have a hard time finding the right words to describe who Marilyn is or what she does for folks.
Oh, I've seen her home overflowing with people of all ages and backgrounds. People who'd come because of who Marilyn is and what she gives them. She gives them hope. She lifts them up and puts their lives on the road to incredible well-being. She can turn your life around with a few words and a piece of pie.
I've sat in her living room and listened to the calls come in from around the world. People who just want to hear her voice, so they can feel assured and confident in their inevitable, God-given success.
In fact, Marilyn once said that it was enough for most folks just to hear her voice on the answering machine. They call and say, "Thanks Marilyn. I just wanted to hear your voice."
Hearing Marilyn's voice gives people the strength they need to keep going.

Marilyn's message is very clear. "You are far more powerful than you think and what you think is always what you get."
Yes, Marilyn is an amazing woman. Her effervescent personality is intoxicating. But what she does for people has a greater impact than mere words could ever have.
She taught rock stars and movie stars. She taught business moguls and beginners. She taught the young, the old. And at least one very grateful writer.
Marilyn is the best one on one teacher I've ever known.
She was our teacher for 5 years. She put my whole family on the path to a life style we thank God for daily.
She taught us how to work less and enjoy life more.
She taught us the secrets that can change your life forever.
She taught me how to become Rich Beyond My Wildest Dreams. I am. I am. I am.
Listening to Marilyn teach is like having a broadband connection to the Source of All Creation.
When Marilyn teaches a door in Heaven opens and some of that beauty shines down on you.
I am thrilled to know her.
The Ultimate Marilyn Collection is 4 hours of Marilyn doing what she does best. Answering questions and sharing the simple secrets to boundless success as only she can do.
We have 4 hours of Marilyn. Two hours of her answering questions on separate occasions. We have a one hour interview of Marilyn before she went into the hospital a few years back. That's the time she died and met her father who sent her back to finish her work. She talks about that on one of the CDs.
And we have the wonderful Marilyn on Living Rich Now.
We transcribed all four hours and made them into 4 ebooks. Those ebooks are imprinted with her energy. They are enthralling. Sometimes there is no substitute for the written word. And now Marilyn's words are written for all to read.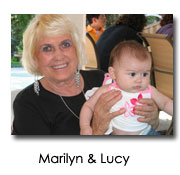 Of course, there is absolutely nothing like hearing Marilyn's voice. We have 4 hours of Marilyn teaching. When I listen to these recordings it takes me back to those very special days when we gathered to hear her words of wisdom and inspiration.
You can listen to Marilyn opening doors for you as you cruise through traffic. You can read her words of guidance before you go to bed at night. You can experience one of the greatest friends and teachers you may ever know.
Order The Ultimate Marilyn Collection today and get to know that powerful little lady for yourself. Listen to her CDs or read her words and maybe you'll feel a little bit of heaven shining down on you.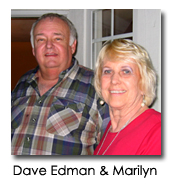 Dave Edman and Marilyn are very close. For many years they seemed inseparable. So, it seems only natural that we include a Dave Edman bonus.
Oh in case you've not familiar with Dave, you're in for a real treat. Dave is absolutely brilliant. I like to think of him as our family shaman.
Dave spent three years in seminary before seeking a more expanded vision of both yesterday and tomorrow. He spent many years working as a licensed hypnotherapist for the rich and famous. He toured the world teaching people how to access their hidden powers. Powers that can make you better at what you do. Powers than can keep you safe. Powers that effect the world you create.
Dave Edman is an important part of our Revolutionary Course of Action, Quantum Selling: Opening the Portal. He appears regularly on Tom & Penelope Live.
The number one question we have every single time Dave comes on one of our shows is, "How do I get more? Do you have books or CDs?"
Well, now you can have both.
Order today and get Dave Edman on Living Rich Now, absolutely free.

Let me make this simple. We've never had an ebook of Marilyn before, so any price would be low. But we're giving you 4 ebooks of Marilyn and one of Dave Edman all for an amazingly low price – $29
Also, keep in mind that we have been selling the Marilyn Q&A CDs and the Interview CD for a total price of $135. So, whether you buy the MP3s for $79. Or the CDs for $97 you are getting a great bargain. Plus with all the extras this is definitely an Ultimate Marilyn Collection at excellent price.
Act now! We can't guarantee how long this offer will be available.
---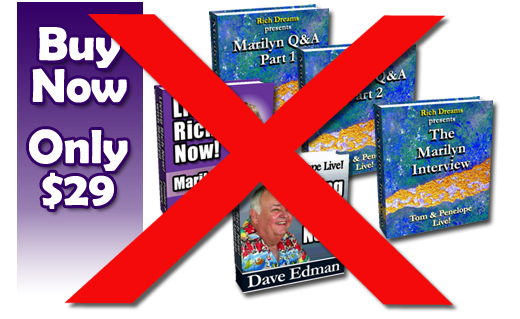 Click Here to Purchase
All 5 E-Books for $29
---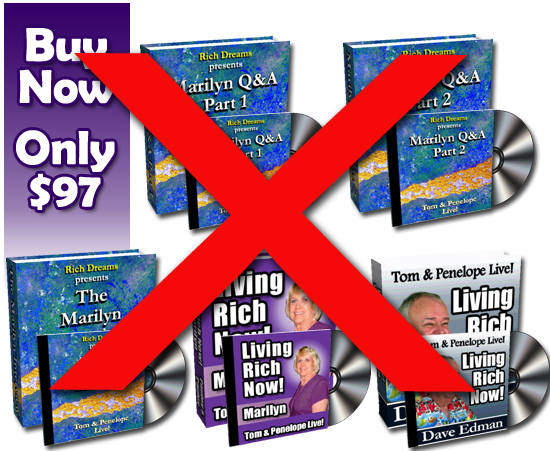 Click Here to
Purchase All 5
E-Books and 5
CDs for $97
(U.S)

Click Here to
Purchase All 5
E-Books and 5
CDs for $97
(Int'l)
---
I was crawling out from under my second personal bankruptcy when I met Marilyn. My confidence was shaken and my hope for the future was a bit dim. I had my nose to the grind stone and I was determined to follow the harsh guidelines for success that we are taught from childhood. Guidelines I knew were wrong.
Yet, I was determined to work long hard hours and sacrifice everything at the alter of Conventional Wisdom because I didn't know a better way.
Marilyn spoke to me one day for one hour and my whole life changed.
This woman is absolutely amazing.
Do yourself a favor. Order The Ultimate Marilyn Package today.
You are making a great decision for you.

---
Rich Dreams Publishing
Post Office Box 3922
Laguna Hills CA, 92654-3922
Phone (949) 215-8628 | Contact

RichDreams.com, Copyright 1999-2005, Thomas L Pauley. All rights reserved.
Terms and Conditions