About a week ago my wife, Diane, and I jumped in the car. Off to a dinner party with good friends. But as I backed out of the drive way, Diane popped a Tom & Penelope Live! show into the CD player.
"What's that?" I asked.
"Just listen, I want you to hear this." Diane implored.
"No, I mean. Which show is that?" I insisted.
"Listen. You need to hear this." She repeated. This time with that tone that says, "you're going to regret saying no again."
But as soon as I heard the title, I'd heard enough. "Can't we listen to something else, I don't like that show. What ever possessed us to do a show on such a negative subject?"
"Listen!" She demanded.
Eventually, I do know when to listen. And I am so grateful that I did.
The longer I listened the more excited I got. Wow! This was a terrific show. Nothing like I remembered. It was full of great information.
In fact, this show was one of the most powerful we'd ever produced.

The show Diane wanted me to hear was one of the first shows Penelope and I did. I think it was the second show after we bought the recording studio.
And what a powerful show it is!
The content of this amazing program is fresh and empowering. It is packed full of life changing ideas, exercies and guidance.
In fact, much of this information is not available on any of our other programs.
Now, you can use these ideas to breathe new life into your success. Without this information you may remain forever blocked from the things you desire most in this life.
Why then did I dislike it so much? It certainly wasn't because of the content. The content was spectacular.
It wasn't the presentation. The presentation was marvelous.
The reason I disliked this show so much was because of title, "When Rich Dreams Go Bust"
And amazingly, that title had absolutely nothing at all to do with the show. It was in fact mis-titled.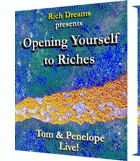 So, guess what we did? Go ahead, guess. It's not really that hard.
Right! We gave this amazing show a brand new title. "Opening Yourself to Riches." A title that truly fits the content.
And then, TA DA!... We had the contents transcribed and turned into an ebook.
So now, you can enjoy one of our very best shows. You can learn the powerful information we've detailed below. And you can have it for the price of an ebook.
Oh sure, we're going to continue to offer the audio version of "Opening Yourself to Riches." But now you get to choose. And at much better pricing.
Now, we once offered this 2 CD set for sale together with another show. The two show package sold for $147. But like I said, I stopped selling it some time back.
We are very excited about this. It's like digging through an old trunk and finding Aunt Carol's priceless ruby ring you thought was lost years ago.
What was lost is now found.


We asked you a question in the beginning. Well, that essential first step to receiving all your good is very simply opening yourself so that you can receive.
It sounds so easy. Why then don't we all do it? All the time?
Because all our lives are filled with mixed messages and impacting events we either misinterpret or outgrow. But the long term effect is to keep us closed off from our good. We generally don't even recognize when we are closing up and most of us have never learned how to reverse the process.
Learn the powerful secrets that open you to receive though doors you may not know are there. Learn physical exercises you can do to raise your level of acceptance. Gain a new perspective on how to find and accept your success. And in the doing open yourself even more to the windfalls of wealth and happiness that await you this very instant.

Why you are not always getting what you ask for and what


to do about that.

Why things can get worse after you make your list.

Why some people and some things must leave your life.

How to avoid making mistakes.

The most important thing you can do to receive


everything you've asked for.

The hidden power contained in this system.

How to add power and impact to your requests.

How to protect yourself from loss, hate and calamity.

One simple physical exercise anyone can use to power up your success instantly.

Hi Tom & Penelope:
Wonderful! Wonderful!! Wonderful!!!
This morning's Teleseminar was the best! Boy I needed to hear that. Thanks, for answering my email question. Yes, Diane, I want the CDs.
Thanks again,
You are so special!
Gary Shortall
P.S. I've been emotional all morning. I'm very serious about this.
Tom, Penelope & Diane:
I received the CDs yesterday in the mail. Thank you so much! That was a wonderful seminar. Really, and I mean this, the seminars are getting better and better! You are tuning in to the callers and I think you both are getting even more sensitive to their growth. (I had questions answered without telling you, etc.)
Gary Shortall
IMPERSONATORS. COM
Good Morning Diane,
Thank you so much for sending that CD, I got it. It's great.
Last seminar was awesome, as always. I always wish you were my next door neighbors so that I could talk with you more often.
Have a great month.
Marzena
Hi Tom,
I just wanted you and Penelope to know that having your CDs is a life saver!! When I'm feeling like this isn't working, I start listening to your CDs again on the way to and from work. It picks me up and makes me feel good. Also, I always learn something I didn't catch before.
Jackie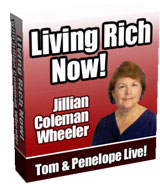 Yes, we are going to include a great bonus…a perfect bonus, when you purchase either the ebook or the audio version of Opening Yourself to Riches. And yes, I know we tell you all the time not to use the word "perfect" since we live in an imperfect world.
But this bonus is amazing. When I listened to it as I prepared to write this page, I was struck by how well it matched this particular program. It matched it so well it seemed to have been created especially for this program. It was for want of a better word…perfect.
With your purchase we will give you free of charge Jillian Coleman on our Living Rich Now series. You may know Jillian as the grants expert, but she has another side which is just as valuable. Especially for our purposes here.
Jillian was for many years a psychotherapist. And she has given us a fantastic program designed to give you the tools you need to clear up and eliminate the negative feeling and emotions that are working overtime to keep you closed off from all your good.
I used this very concept many years ago just before we began our adventure in living rich beyond our wildest dreams. I know I wouldn't be where I am today if I hadn't done this work.
Let me emphasize that this is more than great information. This bonus gives you things you can do specifically to Open Yourself to Riches.
This is a very powerful one hour program. We even thought about offering it alone. But we think it fits so perfectly here that we decided you deserve to have it as a bonus. A perfect bonus, of course.


Don't take a chance on missing this great offer. Order today and start improving your life immediately. Remember it was previously available only in a $147 package. Now you can have the ebook for only $29.
We cannot guarantee how long this offer will be available at this price. It's even possible that I get another wild hair and take it off the market again.
Order "Opening Yourself To Riches" now while you still can.

---

Life is short enough as it is without suffering through another day of doing without the things you want most.
Life is certainly too short to put off having the elevated level of success you came here to enjoy.
All because you simply are not open to receive the riches you've asked for. You deserve more. Now you can have it.
OK, one more testimonial.
Tom & Penelope
After listening to [Opening Yourself To Riches], I finally realized why I have been so mesmerized by your tapes. The first reason I've known all along. Both you and Penelope have very appealing voices and display tremendous passion for the topics you discuss. That passion is contagious.
More importantly, although you downplay formal religions, you are two of the most spiritually alive people I've ever known. That spirituality is both powerful and contagious.
I was especially moved by the discussion about tithing. Very illuminating.
Warmest regards,
Dr. Richard Rubinstein, M.D.